The death of a loved one is never easy to get over, but it is especially hard to grieve when they have been murdered. That feeling is unfortunately what Toya Wright is currently dealing with as she tries to make sense of the devastating murders of her two brothers this past July. Now, she opens up to PEOPLE magazine for an exclusive regarding the tragic turn of events.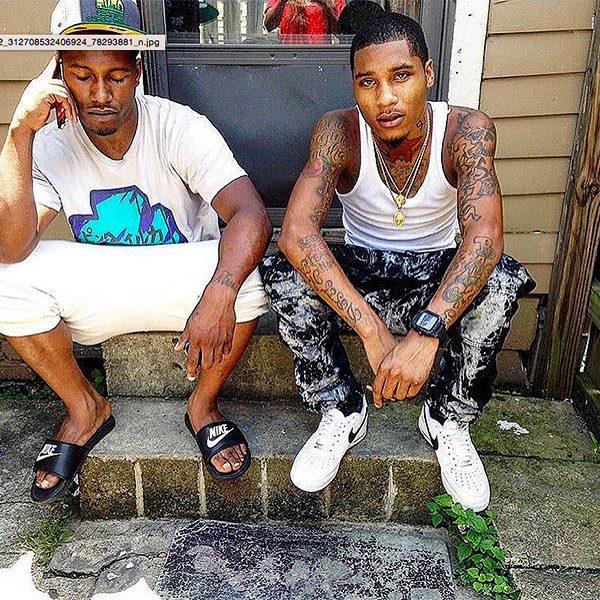 Imagine finding out that not one, but both of your brothers have been shot and killed. Reality star Toya Wright had to live that nightmare this summer and continues to relive it daily, as she tries to come to grips with losing her family and wondering why it had to happen.
In an exclusive with PEOPLE magazine, Wright gives her first in-depth interview since the murders took place, which also provides news about the current status of the case.
Some of the excerpts from the interview are below:
"I got a call from my sister-in-law and she was like, 'Your brothers just got shot,'" recalls Wright, who was hosting a party in Baton Rouge, Louisiana, at the time of the call. "The music was loud and I'm [thinking], this can't be real." Wright's brothers Ryan "Rudy" Johnson, 24, and Joshua "Fish" Johnson, 31, were discovered shot to death inside a car in New Orleans' seventh ward on July 31, according to police.
"It was the worst news ever," she says. "Murders happen every day and this is another dark night in New Orleans. You hear about stories like this all the time, but it doesn't really hit you until you get that call. It hits so close to home."
"We have not publicly identified a suspect or suspects in the case at this time," police spokesman Tyler Gamble tells PEOPLE. "The investigation is ongoing."
To read Toya Wright's full interview with PEOPLE magazine, the issue will hit newsstands on Friday. We continue to send our prayers and condolences to Toya and her family in this time of need.
Check out today's Top Stories here:
AM BUZZ: Blac Chyna Trusts Kylie Jenner To Babysit; Yeezy Season 4 Release Date & More…
http://hellobeautiful.com/2016/08/18/monica-so-gone-challenge/
Also On Hot 107.9:
BIVISIBILITY: These Stars Are Bisexual & Proud
1. In 2015, Miley Cyrus revealed that she identifies as sexually fluid, telling Paper magazine, "I am literally open to every single thing that is consenting and doesn't involve an animal and everyone is of age."
Source:Getty
1 of 12
2. Ricky Martin shocked the world when he came out as gay in 2010. The father of two once revealed, "I know that I like both men and women, I'm against sexual labels."
Source:Getty
2 of 12
3. After photos surfaced of her making out with Michelle Rodriguez, Cara Delevingne came clean about her bisexuality, saying, "It took me a long time to accept the idea, until I first fell in love with a girl at 20 and recognized that I had to accept it."
Source:Getty
3 of 12
4. Frank Ocean captivated the world with his songs about love and women. When he opened up about his experience falling in love with a guy, he garnered the attention of many more.
Source:Getty
4 of 12
5. Lady Gaga has been open about her sexuality since the beginning of her career. After naysayers claimed it was all for marketing, she said, "This is who I am and who I have always been."
Source:Getty
5 of 12
6. After coming under fire for using the F bomb multiple times on social media, Azealia Banks defended herself, saying "I can't be homophobic. I'm bisexual."
Source:Getty
6 of 12
7. Amber Rose has never been shy about her sexuality. She even openly admitted to being in a relationship with a girl, way before her Kanye days.
Source:Getty
7 of 12
8. David Bowie was one of the most notable artists of all time, whose sexuality and gender bent all of the traditional rules.
Source:Getty
8 of 12
9. Mel B once revealed that she was in a four-year relationship with a woman before.
Source:Getty
9 of 12
10. In 2013, Zoe Saldana said that she "might end up with a woman raising my children. I've been attracted to the male species, but if one day I wake up and want to be with a woman, I will do that because it is my life, therefore it is my decision."
Source:Getty
10 of 12
11. Megan Fox told Esquire Magazine once, "I have no question in my mind about being bisexual."
Source:Getty
11 of 12
12. Angelina Jolie has always been open about her bisexuality. She once told OK Magazine, "I have loved women in the past and slept with them."
Source:Getty
12 of 12