It looks like Tyra Banks may have abandoned her talk show, "The Fab Life" to return to "America's Next Top Model" (ANTM).
According to the NY Daily News, VH1 has picked up the modeling competition for at least one new season. The CW cancelled the popular show in 2015 after 22 seasons.
While ANTM had slid in ratings over the years, it was still the CW's most downloaded show. Sources say that the series was canceled because of Tyra's astronomical salary. "It's an expensive show to make because she gets a sh–load of money" shares an informant close to the CW production.
Tyra was "banking" several checks as the show's host, creator and executive producer. Part of the deal negotiated by co-creator Ken Mok may include the model relinquishing control of hosting the VH1 reboot.
No word yet on whether or not fan favorites J. Alexander, Kelly Cutrone or Vogue's former Editor-At-Large, Andre Leon Talley will return as judges for the 23rd season.
The 42-year-old super model is currently hawking her new cosmetics line, "Tyra Beauty". She recently made a cameo appearance on the ABC show, "Black-ish" and she's also starring and executive producing the film, "Life Size 2".
Nowadays, you have a better shot of becoming a professional model from Instagram than ANTM. Beauties, are you interested in watching season 23 of the reality competition?
RELATED STORIES:
Did Jealousy Cause Tyra Banks To Quit Her Own Talk Show, 'TheFABLife'?
Tyra Banks Is So Right: We Should ALL Have 'F**K You' Money
Tyra Banks Hits The Big 4-0: Here's The GIFS To Prove It
1. Happy Birthday Tyra Banks!
Source:
1 of 10
2. Tyra's The Woman Of Many Faces
Source:
2 of 10
3. Tyra's Real Life Photo
Source:
3 of 10
4. FIERCE!
Source:
4 of 10
5. If Tyra Put You Under A Spell...
Source:
5 of 10
6. Hey Tyra, Are You Happy To Be 40?
Source:
6 of 10
7. Tyra Does Not Approve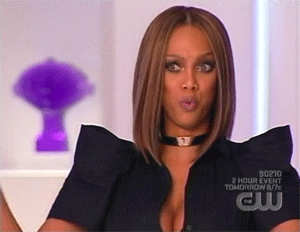 Source:
7 of 10
8. Word Of Advice From Tyra
Source:
8 of 10
9. No Really...
Source:
9 of 10
10. All My Single Ladies!
Source:
10 of 10
IT'S BACK: New Season Of 'America's Next Top Model' Will Air On VH1 was originally published on hellobeautiful.com