BET's three-night miniseries The New Edition Story came to an end Thursday night, leading to the shocking revelation that Ricky Bell struggled with drug addiction.
Here are the moments we're still talking about.
Ricky Bell Battled Drug Abuse
With Bobby Brown's drug abuse and over-the-top antics a public spectacle, it came as a surprise that Ricky Bell also struggled with substance abuse, which seemingly began during their Home Again album. With financial strain and the imminent breakup of the group looming, Bell lost his home and hope.
"They're garnishing my publishing," he told his wife. "There's no more money." Bell suffered a medical emergency that rocked his world, which ultimately led to his rehabilitation.
Bobby Brown's Gumby Haircut Was An Accident
Who knew Bobby Brown's trendsetting Gumby cut was actually a mistake? While preparing for his Every Little Step video, Bobby's barber mistakenly shaved off a patch of Bobby's hair, leading to what became known as the Gumby cut.
Brooke Payne Suffered A Heart Attack
Bobby Brown's antics had finally caught up with the group after he stormed the stage during BBD's performance. After causing a fight on stage, shots were fired. While no one was shot, New Edition's manager Brooke Payne suffered a heart attack during the melee. He was rushed to the hospital and survived.
Ronnie DeVoe Married Shamari From Blaque
Ronnie DeVoe married his girlfriend Shamari Fears in one of the final 'New Edition Story' scenes. Shamai also happens to be one of the members of the girl group Blaque.
Michael Bivins Discovered Boys II Men*
*This one is for the younger viewers* Michael Bivins discovered Boys II Men when they approached him while he was walking to the New Edition tour bus, similar to how New Edition auditioned for Brooke Payne in the alley. Bivins gave the aspiring group his card and the rest is history.
Ralph Tresvant Turned Down A $6 Million Contract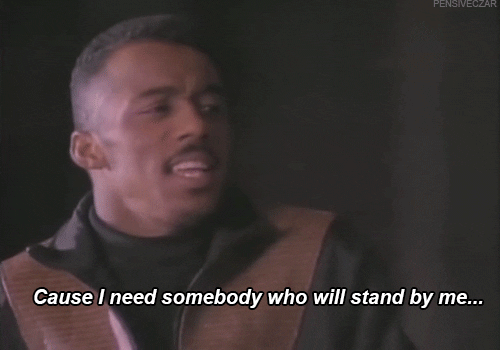 Ralph Tresvant was extremely loyal to New Edition. Not only was he offered a solo deal after the success of Candy Girl, which he turned down, he was also offered a $6 million deal with Disney that he turned down.
Ralph Tresvant Didn't Know Johnny Gill Was Joining The Group
Ralph Tresvant was blindsided by Johnny Gill's addition to New Edition, which came after Bobby was voted out of the group. Johnny had the perfect voice to usher in New Edition's transition into manhood. Johnny earned Ralph's respect when he laid down his vocals for Can You Stand The Rain. Michael Bivins later apologized for not telling Ralph Johnny was joining to group.
Mike Bivins' Was The Businessman Among The Group
Michael Bivins was a G. He clearly didn't have the most talent in the group, but he proved to be the most business savvy of the boys. It was Bivins who discovered New Edition wasn't actually signed to Gary Evans' production company instead of the MCA label.
Jimmy Jam And Terry Lewis Conceptualize Bel Biv Devoe
With most of their band mates exploring solo careers, Jimmy Jam And Terry Lewis conceptualized BBD, which was comprised of Ronnie DeVone, Michael Bivins and Ricky Bell. Led by Ricky the trio found success with their debut album and timeless single Poison.
Who's biopic should BET tackle next?
RELATED STORIES:
#BlackTwitter Remains Undefeated: The Best 'New Edition Story' Tweets
The Cast Of 'The New Edition Story' Underwent Weeks Of Boot Camp To Transform Into The Group
What's Your Favorite New Edition Song Of All-Time?
Ricky Bell's Shocking Drug Addiction + More Things We Learned From 'The New Edition Story'  was originally published on hellobeautiful.com